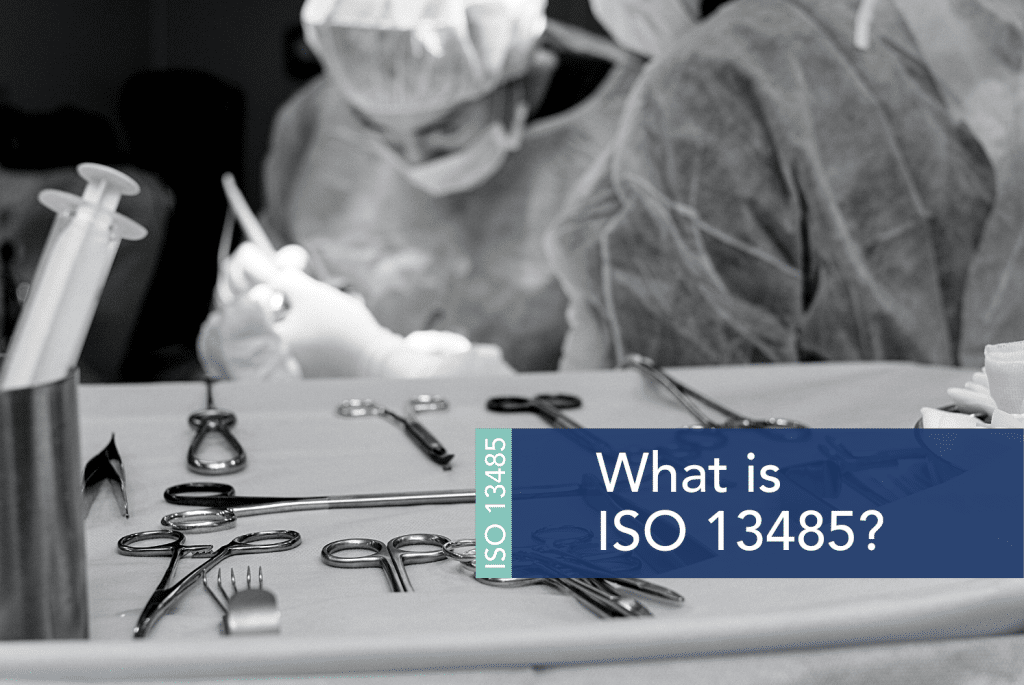 What is ISO 13485?
January 16th, 2023 By Amber Benjamin
Medical devices are considered a fundamental and essential component in diagnosing and treating medical conditions within health systems.
According to the World Health Organization (WHO), common medical problems such as bandaging a sprained ankle, diagnosing HIV/AIDs, or any surgical intervention would not be possible without medical devices.
Healthcare workers, paramedical workers, opticians, dentists, and surgical personnel use medical gadgets in various settings.
Approximately 2 million different types of medical devices, categorised into more than 7000 device classes, are available on the global market.
What is ISO 13485?
ISO 13485 is the standard for maintaining a quality management system (QMS) in the medical device industry. Laboratories or businesses that provide or use medical devices must demonstrate best practices and provide safe, effective, and high-standard equipment.
A medical device, according to iso.org, is a product intended to diagnose, treat, and/or prevent diseases and other medical problems. Examples include instruments, impacts, machines, and in vitro reagents.
Who requires ISO 13485?
Although implementing ISO 13485 is not required by law for organisations, doing so is preferable because certification and implementation provide competitive advantages.
In many governments around the world, it is a legal requirement for organisations to comply with the Medical Devices Directive (MDD). ISO 13485 is synchronised with the MDD regulations, which makes it a quality standard for traders who wish to see compliance.
Manufacturers, suppliers, or governments enforcing ISO 13485 are unlikely to conduct business with organisations that have yet to implement this standard.
How do ISO 9001 and ISO 13485 relate to one another?
The structure of the ISO 9001 Quality Management System (QMS) standard serves as the foundation for ISO 13485. ISO 13485 is a stand-alone certification intended to be a quality management system standard specific to organisations that must have their processes aligned with medical device regulatory requirements.

What are the benefits of ISO 13485?
There are multiple benefits to obtaining ISO 13485 certification. These can include:
Better oversight of your company's supplier chain

Cost savings as a result of an improved quality management system

Being up-to-date with local regulatory requirements

You will receive certification or implementation of a standard that is acknowledged globally, giving your company a seal of quality and proficiency

You will be able to enter the international market and grow your company

Establishing a culture of ongoing improvement

Enhanced client satisfaction
Is ISO 13485 mandatory?
Although ISO 13485 certification and implementation is not compulsory, it does bring your procedures up to speed with compliances in the US, the EU, and internationally, which may very well be needed.
Are you interested in ISO 13485 certification?
If you are interested in implementing ISO 13485 into your organisation, you can schedule a free consultation with one of our expert consultants at IMSM.
For more information about ISO 13485, please read our blog on how to get ISO 13485 certification.

Contact Us
For a free quotation or remote presentation by an ISO specialist, contact us today!
IMSM Ltd Head Office
The Gig House
Oxford Street
Malmesbury
Wiltshire
SN16 9AX
Tel:
+44 1793 296704