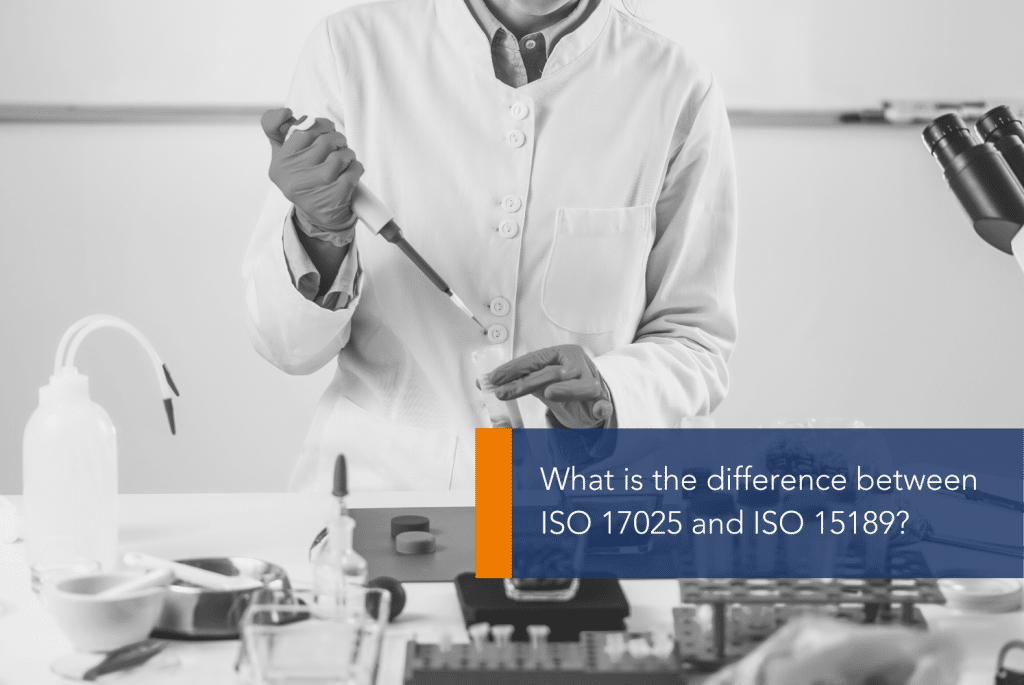 What is the difference between ISO 17025 and ISO 15189?
July 25th, 2022 By Amber Benjamin
High quality competence in any field is crucial, especially when there is a risk of errors or injury in a workspace or laboratory environment. An ISO 17025 and ISO 15189 accredited system will provide your business with quality assurance and verify your laboratories' integrity, impartiality, and capability when working in testing or calibration industries.
What is ISO 17025?
ISO 17025 was put in place in 1999 by the International Organization for Standardization (ISO) and the International Electrotechnical Commission (IEC) to specify the general requirements for laboratory competence and the accuracy of their results. The ISO 17025 accreditation is relevant to any laboratory that performs tests or calibrations, and the requirements provide competency and validity for these specific environments.
This accreditation is a benchmark of excellence for laboratories in multiple business sectors, including automotive, cosmetic, university, microelectronics, petrochemical, pharmaceutical, and power generation.
What are the benefits of ISO 17025?
Boost in reputation: Due to the accreditation being valuable among scientific circles.

Improved brand image: It will increase business and comply with guidelines to ensure more outstanding performance. Clients can also have the assurance that the process is reliable and holds high validity.

Competitive advantage: This will expand opportunities due to its recognition on a global scale.

Save time and money: It will eliminate the need to retest products, and there is no longer a requirement for supplier audits by independent parties.

Operational efficiency: There is greater operational efficiency and productivity among the tasks and employees.

Greater accountability: The staff will have clearly defined roles with greater accountability following the implementation of ISO standards.
What is ISO 15189?
ISO 15189 is the international standard for medical laboratories to develop high-quality management systems and comply with legal standards.
As part of the process for ISO 15189 accreditation, your business will provide evidence demonstrating how your laboratory operates to conform to each requirement to a high standard of excellence. This evidence will be provided to each team member in a documented format, including instructions for performing laboratory tasks to an ISO standard.
What are the benefits of ISO 15189?
Risk reduction: There is a reduction of risk as planning and structure will be reviewed when performing all types of test related assignments.

Cost saving: Assuring that results within the testing laboratory are technically valid and will reduce costs associated with retesting as the standard of ability is refined.

Improved teamwork and morale: Staff efficiency will increase, reducing errors and potential mistakes. Your staff will perform better, and they will also associate your company with being competent.

Legally compliant: Legislation and industry standards will be administered in your laboratory; this ensures that clinic and laboratory environments are safe, hazard free, reliable, and efficient. This increasing trustworthiness among stakeholders allows recognition to increase. Legal challenges will be less likely to occur, and even if they do, there will be a framework to support your business.

Continual improvement:

By implementing

ISO 15189

, you and your company will be sure to develop additional high-quality methods over time, which acts as a continuous improvement strategy for your business.

Globally recognised: Global recognition is highly beneficial, as ISO certification is accepted in over 80 countries worldwide, which can benefit medical health globally.
What is the difference between ISO 17025 and ISO 15189?
The main difference between ISO 17025 and ISO 15189 is that ISO 15189 is intended for an environment that accepts testing requests from medical professionals. ISO 17025 is more suitable for environments where anyone can request testing.
ISO 15189 is not concerned with calibration, and an ISO 17025 accredited calibration laboratory must calibrate any equipment used in an ISO 15189 accredited laboratory.
Medical laboratories are essential to patient care, and understanding the process of diagnosis and assessment of the health of humans is just as crucial in the medical and health field. Having the ISO 15189 accreditation means that medical laboratories must offer a high standard of services such as patient preparation and identification, collection of samples, transportation, storage, processing, examination of clinical samples, validation of results, interpretation, reporting and advice.
The safety and ethics of medical staff and patients are placed of high importance in all laboratory or medical industries. ISO 15189 considers these essential requirements to demonstrate a laboratory's ethical competence in its services and its ability to deliver valid results consistently.
The ISO 15189 accreditation is awarded to medical laboratories that prove they dedicate themselves to delivering proficient and quality services across all aspects of the operation. Accreditation includes developing quality management systems, assessing competency, and ensuring they align with industry and legal standards.
What are the key differences between the standards?
ISO 17025

has different calibration and traceability issues that cannot be equally applied to

ISO 15189's

standard of medical laboratory testing

ISO 15189

specifies that internal audits need to emphasize areas critically important to patient care

The

ISO 15189

requirements for 'accommodation and environmental conditions' in section 5.2 are the same as those in

ISO 17025

. However, they include further additions, such as laboratory design to minimise the risk of injury and occupational illness, patient, and visitor safety, protecting humans from hazards

The consideration of the patient's disabilities, comfort and privacy, and the optimization of collection conditions are emphasized in

ISO 15189
Both ISO 17025 and ISO 15189 have many benefits yet differ in the type of effectiveness they provide. A business that works in a medical laboratory environment and with patient care will likely benefit from ISO 15189, whereas establishments that operate solely in a laboratory environment to conduct testing or calibration but do not need to focus on patient or medical care will most likely find the ISO 17025 beneficial.
How can I receive ISO accreditation for my business?
If you are interested in ISO 17025 or ISO 15189 for your business, you can contact IMSM and book a consultation to discuss your options in greater detail and what is best suited to your business needs. At IMSM, we have a transparent fixed fee and flexible approach and work to make gaining ISO accreditation efficient and straightforward.

Contact Us
For a free quotation or remote presentation by an ISO specialist, contact us today!
IMSM Ltd Head Office
The Gig House
Oxford Street
Malmesbury
Wiltshire
SN16 9AX
Tel:
+44 1793 296704