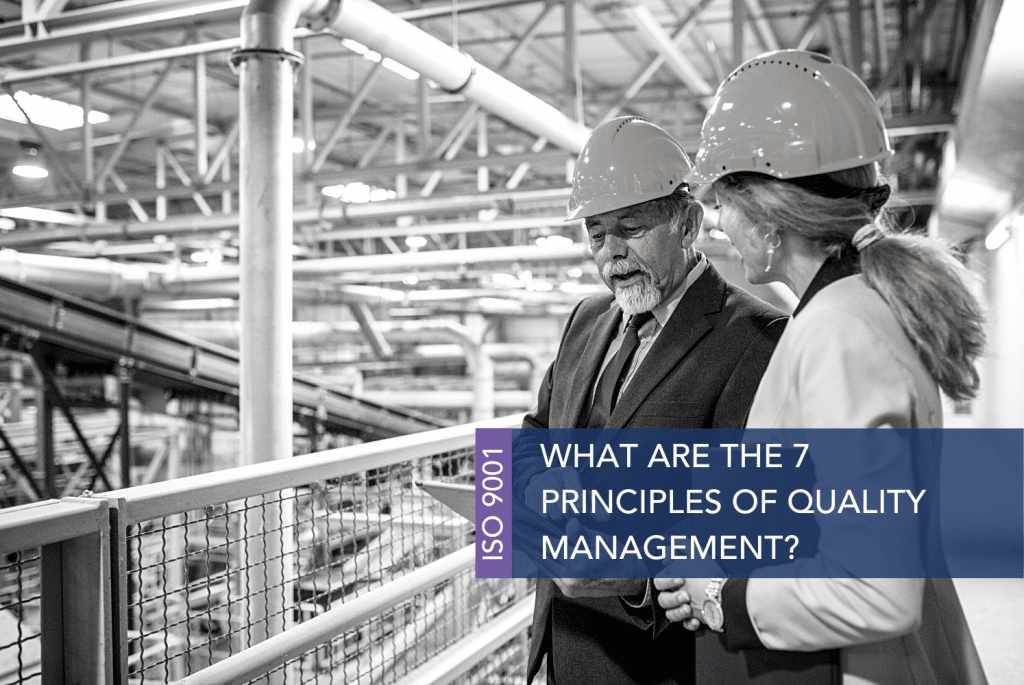 What are the 7 Principles of Quality Management?
October 11th, 2022 By Amber Benjamin
To help your business perform effectively, the Quality Management and Quality Assurance Committee (ISO/TC 176) establishes 7 quality management principles for companies to build upon their existing ISO 9001 framework.
Your business will maintain high-quality standards and competency in compliance with legal regulations by implementing these 7 principles of quality management.
The 7 principles are described by the Quality Management and Quality Assurance Committee as follows:
Customer Focus
The main goal of your business should be satisfying and reaching your customers' needs. Customer satisfaction is key to your business's success, including the satisfaction of your company's stakeholders, employees, suppliers, or investors. By being customer focused, your business can retain the confidence and trust of its customers, which will allow you to receive better feedback by adding value to customer experiences.
The benefits of being customer-focused include:
Increased customer loyalty

Increased customer satisfaction

Increased rate of repeat business

Increased business reputation

Increased revenue, sales, and market share
Leadership
In management, leadership is reflected through the success and engagement of your employees. Good leaders will competently ommunicate with their team and motivate staff to strive towards company goals. Exemplary leadership creates a sense of purpose and morale among your employees and will enhance your company's optimisation.
The benefits of good leadership include:
Improved team coordination

Improved organisation

Improved communication between employees and management

Increased efficiency and productivity

Improved employee morale

Increased awareness of objectives and visions
Engagement of people
Companies must involve and respect individuals at all levels to keep them empowered and invested in business goals. Staying engaged with staff and colleagues will establish strong relationships that build value, and trust, and increase respect within your organisation.
The benefits of the engagement of people include:
Improved communication between all levels of the organisation

Increased trust and collaboration among colleagues

Enhanced understanding of company goals and quality objectives

Increased involvement of people in company activities

Increased motivation and satisfaction of employees
Process approach
You will obtain more predictable and consistent results when your business adopts a process approach. These consistent findings will result from management functioning as an efficient system.
Through the process approach, the establishment of a Plan-Do-Check-Act (PDCA) cycle is used to display that your company processes are managed coherently and are aligned with business goals.
Adopting a process approach will allow your business to operate as an integrated system; this enables you to implement procedures that allow your staff to identify their business objectives as activities or actions that will deliver the desired results.
The benefits of a process approach include:
Increased efficiency of the organisation

Improved predictability of results

Improved understanding of goals and processes

Improved definitive objectives and solutions

Increased control that actions can be planned, defines, and documented

Enhanced confidence in company processes
For more about the Process Approach, see our blog.
Improvement
The ever-changing conditions of business activities mean that continuous improvement is integral for businesses to be flexible to internal and external changes.
An ongoing improvement focus will enable your business to be up to date with the changing industry and anticipate these changes in advance. Regular inspections will be performed as part of the ISO 9001 process to identify errors and opportunities to improve your quality management system (QMS).
The benefits of improvement include:
Increased ability to anticipate sudden changes

Increased understanding of internal and external risks

Increased ability to stay up-to-date with the changing industry standards

Increased ability to implement prevention and corrective action methods
Evidence-based decision-making
Any company must be able to back up its decisions with evidence to maintain its quality standards. Evidence-based information is more likely to increase the desired results, as data already supports it.
ISO 9001 requires that businesses must provide evidence before the company implements any change. Data collected before decisions are established will give your business the benefit of higher prediction and success rates. Your business will save time, money, and resources due to the reduction of resulting errors.
The benefits of evidence-based decision-making include:
Increased ability to make better decisions

Improved decision-making process

Increased ability to analyse, research, and evaluate decisions

Increased ability to implement cause and effect

Increased ability to monitor and measure results with company performance
Relationship management
Your business must maintain a good relationship with suppliers built on trust, reliability, and mutually beneficial agreements. Your suppliers are essential to sustaining a competitive advantage against competitors in your industry. A customer-business relationship built on trust and communication will likely stay faithful in the long term.
The benefits of relationship management include:
Increased interest in potential suppliers outside of the company

Increased ability to manage the supply chain

Understanding of business goals, interests, and values

Increased competitive advantage

Increased trust and loyalty of customers
By implementing these 7 principles into your quality management system (QMS), you can ensure you are maintaining best practices for your business. These 7 principles will enable your business to be more efficient and streamlined internally whilst improving your reputation, company image, and customer loyalty.
I'm interested, how do I get certified?
If you are interested in gaining ISO 9001 certification, you can contact IMSM and schedule a free consultation with one of our experts. At IMSM, we have a transparent fixed fee and flexible approach, helping you earn certification.
Already have ISO 9001? You can become certified to conduct internal audits as an ISO 9001 internal auditor through one of our live online training courses.

Contact Us
For a free quotation or remote presentation by an ISO specialist, contact us today!
IMSM Ltd Head Office
The Gig House
Oxford Street
Malmesbury
Wiltshire
SN16 9AX
Tel:
+44 1793 296704