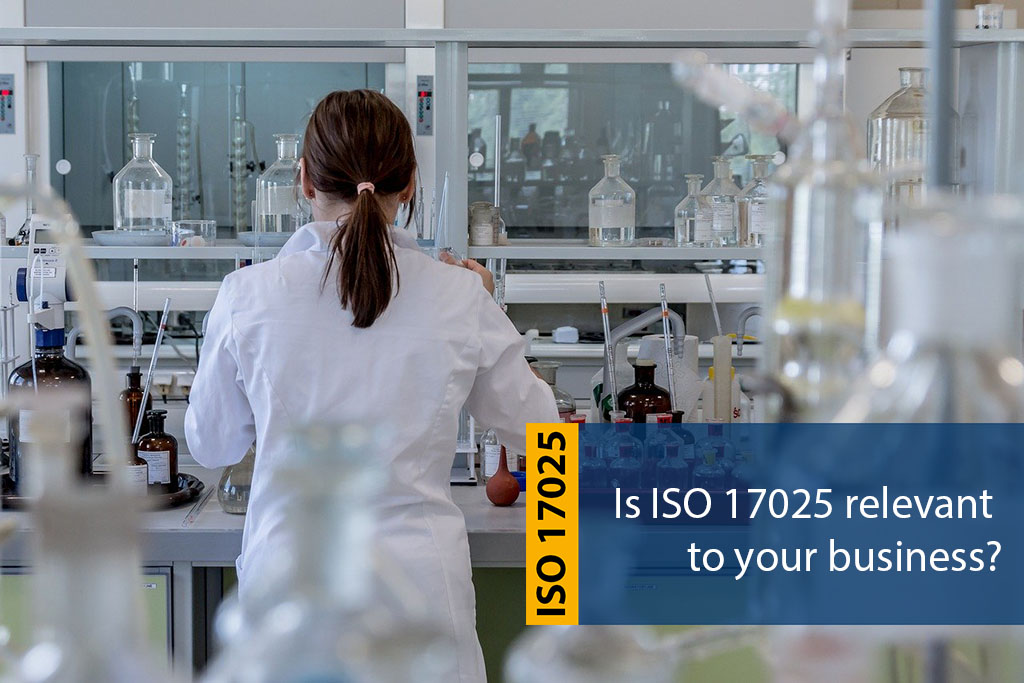 Is ISO/IEC 17025 relevant to your business?
September 1st, 2020 By Kaytieduffield
ISO/IEC 17025 is the internationally recognized standard for laboratory competence. It was introduced in 1999 by the International Organization for Standardization (ISO) and the International Electrotechnical Commission (IEC). So, what exactly is ISO 17025 and how is it relevant to your business?
ISO 17025:2017 is a benchmark of excellence of which your laboratory should strive to be accredited with, giving your clients and supply chain absolute assurance of your integrity. It is relevant to your business if you are a laboratory that carries out any sort of testing or calibration. The standard identifies the high-tech competence and management system requirements that guarantee your test results and calibrations are consistently accurate in laboratory environments.
What is an ISO 17025 accredited laboratory?
An ISO/IEC 17025 accredited laboratory is one that has completed their ISO 17025 certification and meets the international standard for laboratory testing, by demonstrating their technical competency and ensuring the accuracy of their test results.
ISO/IEC 17025 is one of the most significant accreditations for all types of laboratories, universities, and research development centers performing tests and calibration. An ISO 17025 accredited lab includes management and technical requirements that enable a testing or calibration laboratory to claim their technical competency, which certifies that the results are consistent and accurate and were generated using industry-standard protocols.
What is the purpose of ISO 17025?
The ISO 17025 is a benchmark of excellence for laboratories across a multitude of business sectors. These include automotive, cosmetics, universities, microelectronics, petrochemical, pharmaceutical, power generation, and most recently, the cannabis industry.
Consistency and accuracy are a top priority for testing laboratories, however, there are several variables that could cause unreliable results. There are several factors that contribute to inconsistent outcomes, including instruments used (which could be uncalibrated or unmaintained), unique laboratory environmental factors, as well as the competency of the lab tech performing the test. ISO 17025 Laboratory Competency enhances the reliability of testing and removes any areas that could lead to the manipulation of results or fabrication of potency in order to increase market value.
ISO 17025 verifies your laboratory's ability to produce reliable testing and calibration data, as well as appropriately handle and transport test items. ISO 17025 evokes customer confidence, reduces expensive retesting, and introduces your laboratory to international markets.
Why is ISO 17025 important?
ISO 17025 will boost your laboratory reputation in domestic and overseas markets, introducing new trade opportunities, international recognition as a quality organization, as well as saving time and costs by not having to retest.

Demonstrates your commitment to operational efficiency and quality management practices.

Outlines robust quality controls for choosing and authenticating methods, analyzing statistics, and control data.

Verifies the quality, capability, and expertise of your laboratory.

Evaluation of staff, methods, equipment, calibration, and reporting to guarantee test result validity.

ISO 17025 increases staff accountability and clearly outlines individual responsibilities.

Eliminates the need for independent supplier audits, saving time and money.

Opens-up tendering opportunities on a global scale.
How do I get ISO 17025 certified?
It all starts with a free consultation with one of our experts in ISO certification. We will establish through our initial discussion the best and most fitting standard for you and your customers' requirements and provide a fully tailored, fixed-fee quote with a simple, flexible client agreement.
The process of getting ISO 17025 certified usually follows these steps:
Consultation with an ISO consultant and initial discussion of ISO

Initial Assessment (GAP Analysis)

Production of Documentation

Implementation

Accreditation through an accredited body

Contact Us
For a free Quotation or On-Site presentation by an ISO Specialist, contact us today!
IMSM Inc USA Headquarters
888 Prospect Street
Suite 200 La Jolla
California, CA 92037
USA
Tel:
858 263 2888