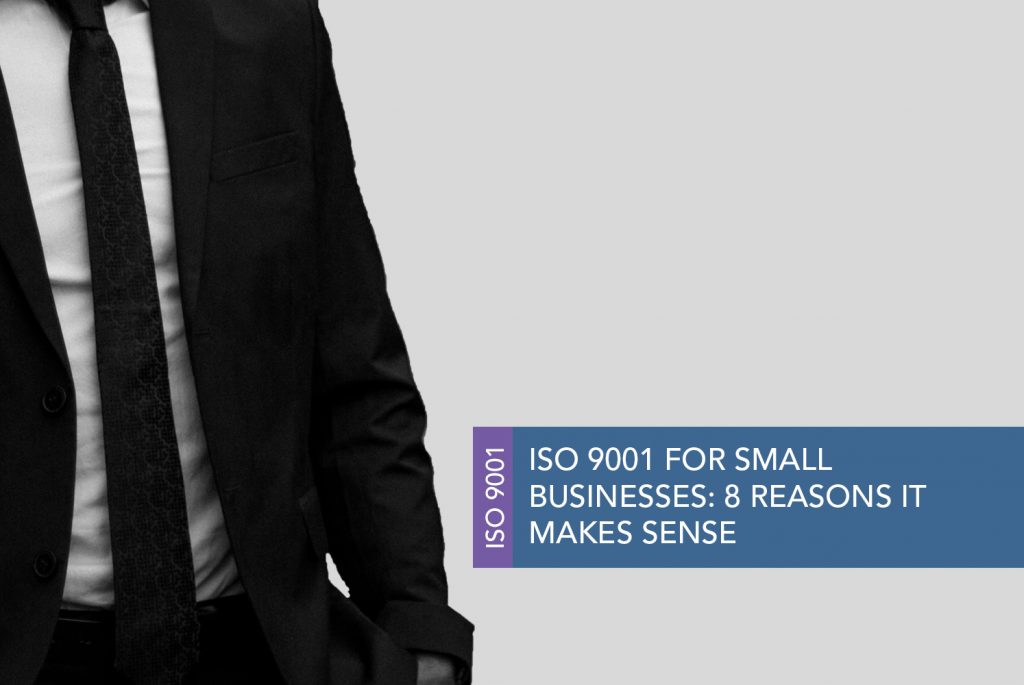 ISO 9001 for small businesses: 8 reasons it makes sense
August 23rd, 2019 By Marketing
In 2017, ISO 9001 was awarded to over 1,000,000 businesses worldwide, making it far and above the most popular ISO, especially within the construction and wholesale industries. This is because, universally, a best practice quality management system (QMS) is an integral part of any well-run organisation; if you're struggling to implement an efficient QMS, ISO 9001 could also help you become more efficient in the way you do business.
But isn't this useful for large businesses only?
Actually, the structure of ISO 9001 means it's cost-effective for you no matter your industry, annual turnover or number of employees. There's always a demand for quality products and services, no matter the size of your business; customers are always seeking competitive prices and great delivery.
Benefits of ISO 9001 for Small Businesses
1. Your business becomes more structured
The main benefit of ISO 9001 is that it gives your operations a more solid structure to work from, enhancing the effectiveness of the way your company works. Because systems are robust and senior management are taught innovative techniques, employees work more productively thanks to an emphasis on good leadership leading and engaging workers across the board.
2. You'll help improve your supply chain
It's not just about your workers, it's about making the best out of your supply chain through regular feedback. Ensuring you and everyone you work with is compliant with regulation, will better your industry as a whole and lower costs.
3. There's plenty of opportunity for development
While you give feedback to your supply chain, ISO 9001 helps carve out room for you to improve. Your QMS isn't set in stone: it's fundamentally based on constantly improving how you operate. Small businesses shouldn't feel intimidated, as they too should be focusing on how to better themselves.
4. Transform procedures to be more cost-effective
At the bottom line, managing the quality of your product or service saves costs. Therefore, it simultaneously increases profit margins. A successful business not only better satisfies your existing customers, but also helps you secure new business.
Want to know more about ISO 9001? Here's everything you need to know.
5. Give your marketing a boost
The ISO 9001 certification is an international mark of quality that showcases your commitment to continual improvement and best practice QMS. Even small businesses want the opportunity to prove they're industry leaders – and that these leaders can come in all shapes and sizes.
6. Minimise risks
Risks and dangerous slip-ups can be most devastating to small businesses as they tend to have the most to lose. As part of the certification process, you will identify risks that are unique to your business through risk assessments that have been developed using risk-based thinking.
7. It's tailored to you
ISO consultants, like IMSM, help to customise the programme in a way that works for your business. We understand the nuanced needs of a small business aren't the same as a large organisation, and we can create a version of the ISO standard that's workable yet still meets the international requirements.
8. You can audit your own organisation
You can be your own auditor thanks to online or in-person training. This is a cheaper alternative to having an external auditor examine your business and training can fit around your own personal schedule.
The process of getting ISO 9001 certified can seem daunting, especially for a small business that might not have the resource to dedicate one staff member to lead the implementation project full time. This is where many businesses hire an ISO 9001 consultant, to bring their expertise to the process and ensure certification is gained first time round. If you're looking for ISO consultation, get in touch with IMSM to see how we can help your business with certification.
Contact Us
For a free Quotation or On-Site presentation by an ISO Specialist, contact us today!
IMSM Philippines Corporation
28th Floor, Tower 2,
The Enterprise Center, 6766 Ayala Ave.,
cor Paseo de Roxas,
Makati City
Tel:
+63 917 147 9936