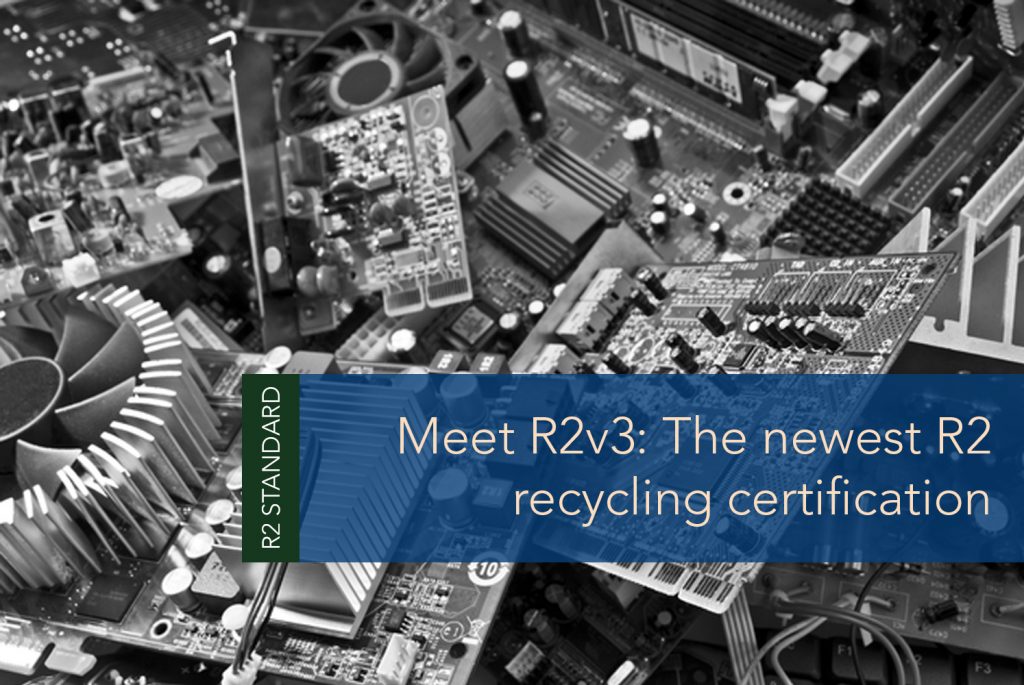 Meet R2v3: The newest R2 recycling certification
January 6th, 2021 By Kaytieduffield
The R2:2013 Standard is the leading global certification standard for the electronics reuse and recycling industry, originally created with guidance from the Environmental Protection Agency (EPA). The R2 Standard requirements are designed to protect people, protect the environment, protect data, and preserve resources.  
To continually stay up-to-date and maintain best practices, standards need to evolve as businesses do. Therefore The Sustainable Electronics Recycling International (SERI) Board of Directors has approved R2v3, an update to the R2:2013 electronics recycling and reuse standard.
What are the key changes captured in the new R2v3 standard?
Increased emphasis on data protection:
With data protection being at the forefront of business concerns, incorporating data protection in this new version makes it clearer to understand what's required for handling data-bearing devices. These strengthened data security controls tackled in R2v3 ensures the quality and effectiveness of refurbishment, as well as testing, repairing, and reusing appliances.
Strengthened Requirements:
Part of the latest update is to strengthen requirements in order to reduce risk and adverse outcomes while still allowing innovative processes and methods to achieve consistent results. This includes managing the flow of material through downstream vendors, especially in those areas regarding data protection, as well as environmental health and safety requirements.
Core and Process Requirements:
R2v3 has recognized that different facility types have different specialties and therefore reorganized the requirements into two sections:
"Core Requirements" which apply to all R2 Certified Facilities AND
"Process Requirements" which apply only to facilities that perform specific processes.
This will allow customers to have further clarity into the capabilities and expertise of each R2 facility as well as making R2 more achievable and affordable for small and startup facilities, which are yet to engage in the full scope of R2 processes.
Expectations
R2v3 continues to be focused on outcomes but recognizes there can be multiple, equally effective ways to achieve the same result. However, R2v3 does add prescription in some areas to improve understanding and consistency of the expected outcomes.
What are the key benefits of R2 recycling certification?
Promotes safe and effective recovery and reuse of electronic equipment and materials

Guards downstream control of the recycling chain

Minimizes environmental and public health risks

Demonstrates compliance with domestic and international laws

Minimizes liability and encourages reduced insurance costs for recyclers

Assists original equipment manufacturers (OEM's) with due diligence for their end-of-life electronics

Instills public confidence through certified third party review

Downstream recycling traceability chains. (downstream suppliers must provide exact names and locations of facilities handling recycling until final disposal. The material must be tracked downstream –if the material goes to 20 different entities until recycled, documentation will be required)
Conclusion and next steps:
R2v3 expands on the requirements of several different areas, such as data protection, testing, repairing, environmental responsibility, and new opportunities for companies specializing in specific processes.
By certifying to this standard through an accredited third-party certification body, electronics recyclers can help prospective customers make informed decisions and have increased confidence that used electronic equipment have been managed in an environmentally responsible manner. Certification to R2 allows electronics recyclers to highlight their value to customers, employees, their community, and the public.
R2:2013 will continue to be valid through the transition period until July 1, 2023. If you hold the R2 standard and need assistance with this transition, IMSM can help. Or, if you are interested in implementing R2v3, contact us today for more information.
Contact Us
For a free Quotation or On-Site presentation by an ISO Specialist, contact us today!
IMSM Inc USA Headquarters
515 S. Flower Street,
18th Floor,
Los Angeles, CA 90071
USA
Tel:
833 237 4676